Our Process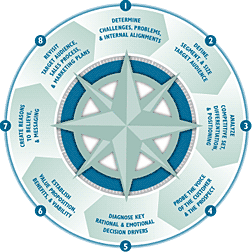 What does this encompass?
The Strategy Compass™ represents our proprietary process. It is a dynamic check list of requisite steps to reach and exceed sales goals and to maximize marketing budgets.
Together we start on the inside and work our way out. Some companies need to start at #1 to determine challenges, problems and internal alignments. Others may be further along. When you move from one point to the next you identify the bridges and barriers between your company and your customers and prospects.
It's about setting the right course.
Points #4 and #5 are about eliciting candid, constructive and emotional responses from the people who affect your sales. Emotional need states are key drivers of attitudes and behaviors, more so than features and benefits.
One of our specialties is exploring emotions that drive purchase behavior in your target audience. We eliminate guesswork by keeping you in touch with your employees, customers, prospects, investors and opinion leaders.
This sets the right course for points #6 and #7: your value proposition, reasons to believe and messaging. We show you how to define and clearly communicate the value you deliver. Together we monitor, anticipate and create change in both your organization and in the marketplace.